Your home is a place where you can rest and relax after a long day. Or it's a place to socialise with friends and family over dinner! 
But sometimes, clutter can take over. 
So, if you're ready to make your home absolutely shine starting this new year, we're here to help. We've laid out an entire declutter calendar for you. Tackle your entire home and get rid of clutter for good! 

Why Declutter Your Home
We're here to help if you're wondering "why should I declutter my home" or "will decluttering even make a difference?"
Keeping a decluttering schedule is proven to:
Boost creativity

Ease extra frustration in your life

Keep more money in your wallet

And lessen strong feelings like guilt
Not to mention, decluttering your home can do wonders for your mind. 
The Impact Decluttering Can Have on Your Mind
Having unorganised clutter inside your living space does more than showcase a messy home. It has quite an impact on your mind! 
Studies have shown that mess causes stress. Keeping clutter around can elevate levels of stress and anxiety. Your brain is naturally wired to prefer organisation and order but when clutter takes up space in your house, it adds more stimuli to your brain. This quickly causes your brain to feel overwhelmed. 
Why Have a Decluttering Schedule
By keeping a decluttering schedule and a cleaning calendar, you can keep yourself on track and focused to keep a neat and tidy home. 
You can organise your calendar however works best for you and your life. Ultimately, here are our top 3 reasons why you should have a decluttering schedule:
Stay Organised
First and foremost, a decluttering schedule keeps you organised. You can have set days and times that work for your life. And by doing so, you can always stay on top of your decluttering tasks. 
Keep from Being Overwhelmed
If you're not careful, not keeping up with clutter can quickly turn into an overwhelming situation. As mess accumulates, it's only natural to feel more stressed about what to do with "stuff." 
Using a decluttering calendar will help you stay consistent each month. And when you're consistent with your decluttering, you won't feel as though things are piling up around you. 
Work Through the Whole House Without Missing Anything
With a decluttering schedule, you can map out every part of your house you want to declutter. And you can work through the entire house at your own pace. That way, you won't miss a single part of your house!
How to Use Your Decluttering Calendar
It can easily be a struggle when you're figuring out what to throw away when decluttering. But having a decluttering calendar can help you navigate the entire process! 
When it comes to using it, we recommend following these top 2 tips: 
Set a Timer Every Day
Our easiest home decluttering tip involves nothing more than the timer on your phone. For each of your dedicated decluttering days, set a timer to work. It will limit the amount of time you're sorting through your home. That will inherently feel less daunting as you tackle your decluttering list! 
Have Designated Places
When you're decluttering, you'll need places to put the stuff you're sorting through. And one of the best ways to declutter is to resist just shoving things into desk drawers or under bed frames. Instead, have specific piles or boxes to sort your items. We recommend at least these three places where you can pile your things: 
To Sell / Donate
Have a pile of your things you're ready to sell or donate. If they don't serve you purpose or value anymore, they may for someone else! 
To Keep
Have a section to put things you want to keep. This is especially important if you have things you want to keep but don't have a specific place for them yet. A key part of successfully decluttering your home is making sure everything has a spot. 
And if you don't have a designated section yet for those things you want to keep, think of getting a self-storage solution. 
To Throw Away
There are some things that you just don't need anymore. And to be frank, no one else needs them either. These are the things you can toss out. Think of old papers, old wrappers, and broken or ruined items. 
Your Decluttering Calendar Month-by-Month
Tackling the decluttering of your home is a stressful project. But breaking it down into a manageable decluttering calendar makes it so much easier! We've created a simple to follow decluttering calendar that's sorted into tasks for each month. 
Use this decluttering schedule to feel more comfortable and at ease in your home! Be sure to always remember your sorting categories and have appropriate piles for your items. 
January: Refresh Your Bedroom
It's the new year! Start it off right with a new year's cleaning resolution that you can master. In January, it's all about making your relaxation space more comfortable. First, start by decluttering your nightstands. Sort items that don't belong on top of your nightstand into the right categories. Then, work through your drawers. Decide if things like books, eyeglasses, remotes, pens and paper, or mail belong on your nightstand. If not, put them in the appropriate place. 
Once you've cleaned out your nightstands, do the same for your chest of drawers. Pay attention to your clothing, too! Is there anything in there you don't wear anymore that can be sold or donated? Do you have clothes that have holes, rips, or tears in them? Sort those appropriately. 
If you have a vanity or a desk, repeat the same steps. Be sure to recycle or throw away anything you haven't used in the last 6 months.
February: Clear Out Kitchen Cabinets
For February, let's tackle your kitchen cabinets and drawers. Your kitchen is, more than likely, one of the most used rooms in your home. So be sure to give it a great sorting so you feel fresher in that space. Not to mention, you can clean up the area with kitchen storage to get ready for a beautiful dinner for Valentine's Day! 
Moving one at a time, empty each kitchen cabinet and drawer. Look through all of the items in there to see what can be sold or donated, what can be kept, and what can be thrown away. Anything that's chipped or broken can be tossed. If you have any dishes or glassware that you don't like to use anymore, consider donating or selling them. 
March: Clean the Washroom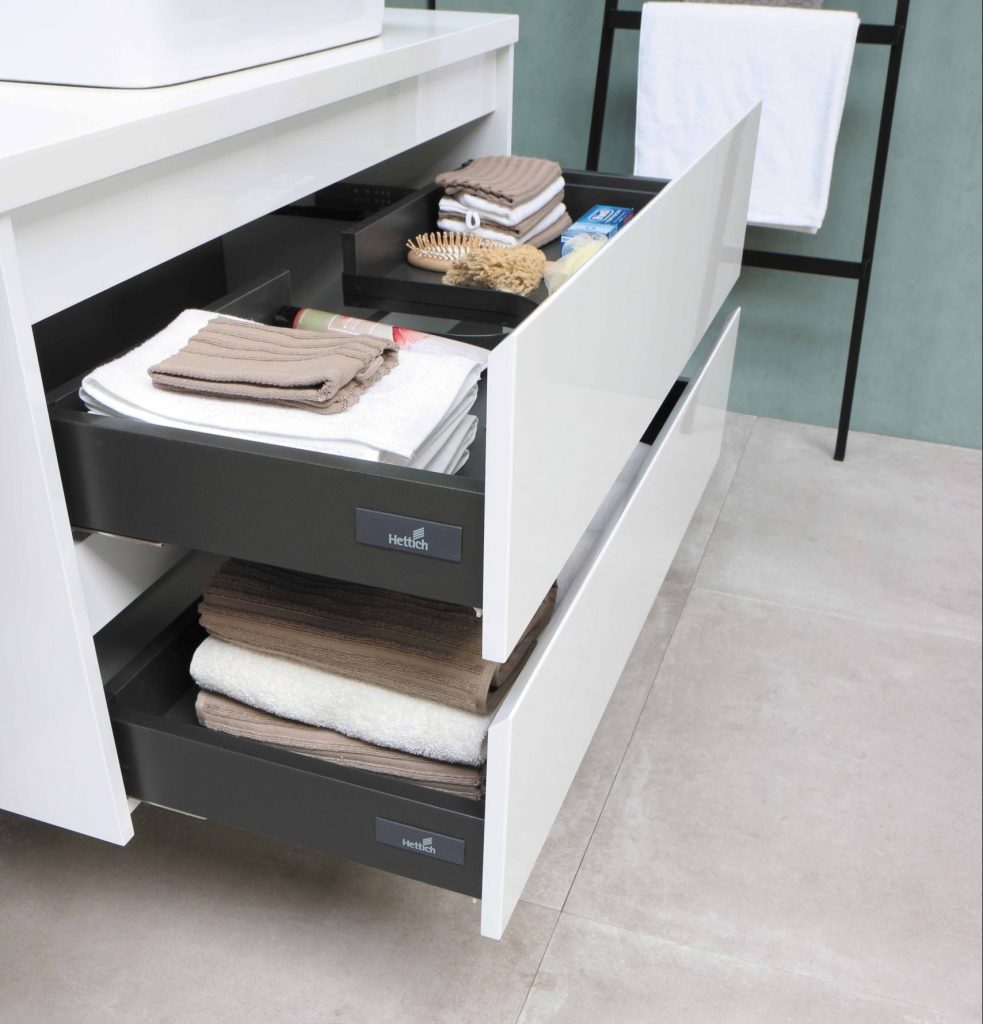 It's time to clean the washroom, especially so you can prepare for get-togethers for St. Patrick's Day! The first thing to tackle is the medicine cabinet. Clear out any expired prescriptions, makeup products, or skincare products. They're doing nothing but taking up space! 
Then, move on to your cabinets and drawers. Look through everything and decide what's worth keeping and what you need to toss. 
Once you've decluttered the space, use bathroom storage ideas to keep clutter from piling up in the future! 
April: Box Up the Basement/Attic
Don't forget about the extra spaces in your home that are often out of sight, out of mind. As a part of your decluttering calendar, take April to box up your basement or your attic to make the most of the space. 
Often, these spaces are places where we set things and forget them. So you may feel overwhelmed as you tackle them. 
Divide the entire basement or attic into sections. And for each section, pour through all of the boxes and containers. Decide what needs to stay and what needs to go. Don't move on to a new section until your current one is complete. That will make sure you get through every part of your basement or attic! 
May: Declutter the Living Room
Your living room is an important part of your cleaning calendar! It gets used so often, and it tends to be the face of your home. But, the problem is, there's not always a lot of home storage solutions in the living room. 
You need to decide how you can add storage spaces for your most used items like television remotes, books, and the like. 
Start with your television console. Are there any old television remotes that haven't been discarded? Do you have old video games that can be sold or donated? Once you've completed the console, move on to bookcases and shelves. 
Finally, be sure to organise kids' toys that you keep in the living room. 
June: Organise the Playroom or Under the Staircase
And speaking of organising kids' toys, take June to declutter the kids' rooms. Kids grow quickly, and that means they grow out of things quickly. Look through all of their toys, clothing, and books to see what they've outgrown. Consider donating or selling these! And if you have certain sentimental items, use a self-storage solution to store them away for the future. 
If you don't have a kids' room in your home, this is also a great time to organise under the staircase. You can even convert this space into an under the stairs storage area! That will reduce the odds of clutter accumulating there in the future. 
July: Declutter the Smaller Spaces
Your home probably has smaller spaces that might go unnoticed. July is the month to take care of these parts! 
Laundry Room
In your small utility room, take a peek at your laundry detergents and softeners to make sure none are out of date. Look through any storage bins that you keep for miscellaneous items like batteries, tape, or any other household items. 
If anything is outdated or expired, be sure to toss them. 
Foyer
While you may not have a traditional foyer, you at least have an entryway. And surprisingly, it can get cluttered easily! As a part of your decluttering schedule, make sure you have places for random items as you come in the door. Do you have a place to catch your keys and wallet when you come in? Is there a spot where mail accumulates?  
If you have a desk or console by the front door, be sure to clean out drawers. Toss anything that's gathered over the weeks and months! 
August: Confront Your Closets
With the last month of hot weather, it's time to address your clothing situation. Start cleaning out your closets. Pull out clothes that you haven't worn in the last six months and set them in your donate or sell pile. Throw out clothes that have tears, rips, or holes in them. 
September: Tackle the Garage
Your garage is another place that stays "out of sight, out of mind." Organise this space with garage storage ideas so you create a functional space, not just a catch-all. Just like your basement and attic, the best thing is to split your garage into sections. Don't move on from one section until you're finished sorting through everything. 
October: Spruce Up Your Home Office Space
Use October to refresh your home office space! Start with your desktop and organise any documents you have there. If there's anything you no longer need, throw them away or shred them. You may also want to digitise certain documents so you can let go of physical clutter! 
Do the same for your drawers, too. And be sure to toss anything you have too many duplicates of. 
November: Explore Self-Storage Options
As you've completed your decluttering calendar, you may have accumulated things that you want to keep, but don't have a specific space for. If that's the case, this is the perfect time to choose a self-storage option! 
You can hold onto valuable and sentimental items that you just don't want in your home at the moment. And it'll clear out your home from physical clutter just in time for the holiday season. Resist the urge to just toss boxes in there. Instead, make an effort to keep your self-storage unit organised so you don't feel stressed whenever you see it.  
December: Final Touches

Congrats! You made it through your decluttering list. In December, with the holiday season, you can just add the final touches to your home.This might include:
sorting through any mail that's accumulated

looking through kids' toys in your living room and finding ones to sell or donate 

clean off any table tops or desk tops in your home

clear the kitchen counters
Before the holidays arrive, pick up any extra clutter you have lying around so you can enjoy the season! 
This decluttering calendar will help you stick to a decluttering schedule so that you can make your home absolutely sparkle! 
And if you need a space to put more of your items you're not ready to part with, you can get a quote for a self-storage solution near you!