Having kids doesn't have to be synonymous with having a messy house! You can absolutely have kids and keep your home neat and tidy. And you don't have to have a massive house to do it! 
It's all about getting strategic in how you organise your kid's room for maximum efficiency. 
We're sharing how to prep your kid's room for organisation, plus we're listing our top 18 favourite ideas for strategic storage for a kid's room that grows alongside them. 

Prep Your Kid's Room for Storage Ideas
Before you get started on organising and storing toys, clothes, and other kids stuff, you'll need to prep the room. 
Declutter Your Kid's Room
First things first. Go through all of your child's things. There's no need to organise their room if even a quarter of it isn't needed anymore. Here's a quick list of what to sort through before storing items away: 
Get rid of excess toys and books: 
Go through all of your child's toys. Sort them into piles based on toys they've outgrown, toys that don't work anymore, and toys they just don't play with. Then you can decide if you should toss or recycle certain ones, if you should donate others, or if you can sell some and make some quick money. 
Donate or sell old clothes
Just like with toys, you'll want to go through all of their clothes. Find ones they've outgrown and make piles to donate or sell. You may even need to make a pile of clothes that need to be recycled due to rips, tears, and holes. 
Invest in storage furniture
Once you've gone through any old toys, books, and clothes, you're ready to start the organisation process. If you have the space and the budget, one of the best things you can do is invest in storage furniture. Bed frames that include drawers or cubby spaces are a great way to add more organisation to kids rooms. Armoires and shelving units are also excellent add-ons! 
4 Tips for Organising Your Kid's Room
With the room prepped, we've got a few kids room ideas for organisation. When the room is more organised, you might find your creativity improves. And that's perfect for coming up with excellent kid's room ideas! 
Move the dresser to the closet
This is one of our favorite tips, especially if you need small kids room storage ideas. Moving the dresser to the closet is the perfect way to turn a small kids room into a grand one. You'll be amazed at how much more floor space you end up with just from putting the dresser behind closet doors. 
Choose under bed storage
And speaking of floor space – be sure to use it in strategic ways! Get under bed trolleys for storage that can be put away completely. These are best for seasonal items like heavier bedding and winter coats. But you can also add extra toys or larger play mats under beds, too! 
Use your vertical space
While we always recommend using as much floor space as you can, we also stress using space in other ways. So don't forget about using your walls! Hang shelves, crates, and even small bookcases for more kids room storage. And don't forget to use the backs of doors, too! 
Choose corner shelves
If you're running out of floor space and vertical space, consider choosing corner shelves to give yourself more storage room. 
5 Kids Room Ideas
When your kid's room is decluttered and organised efficiently, it's time to get busy adding storage ideas! We've laid out our top 5 kid's room ideas for when it comes to adding storage and organisation. 
Use stacking crates
Stack crates together to make DIY cubbies. And then use them as storage for toys, shoes, or more clothes! Wooden crates make for the perfect storage space. Plus you can paint them to match any decor you already have.
Put together storage baskets
If you're trying to find places to stick blankets or even stuffed animals, you may want to consider storage baskets. Large, round storage baskets are an excellent kids room storage idea. Find baskets that are in the same colour palette as your kid's room. That way they'll match, and you won't need to switch them out any time soon! 
Organise with bins
Whether you decide to organise clothes, toys, or books, they can all fit in bins! Find matching, stylish bins and add anything to it. Another tip? Find bins that don't look too kid-ish, so the bins can last while your child grows. We suggest finding bins in simple patterns, like stripes, (or even stick with solid colours!). And stay with neutral colours. Grey, white, black, and beige are colours that your kid won't outgrow anytime soon. And they'll still look great in their room! 
Personalise your storage ideas
No matter what kids room storage ideas you choose, get personal with it! Add your kid's name to storage bins or cubbies. This is especially great if you have children that share a room. 
Get specific with labels
Get specific with some labels to remind yourself (and your child) what is placed where. Add labels to toy bins and baskets. Use labels for clothes. And you can even use labels to alphabetise books! 
4 Kids Room Toy Storage Ideas
Toys are the bane of most parents' existence! They always end up everywhere. And eventually they feel more like clutter and less like fun for your kids. We have 5 great kid's room toy storage ideas so you can feel more relaxed and organised for the next playtime. 
Storage cubbies for toys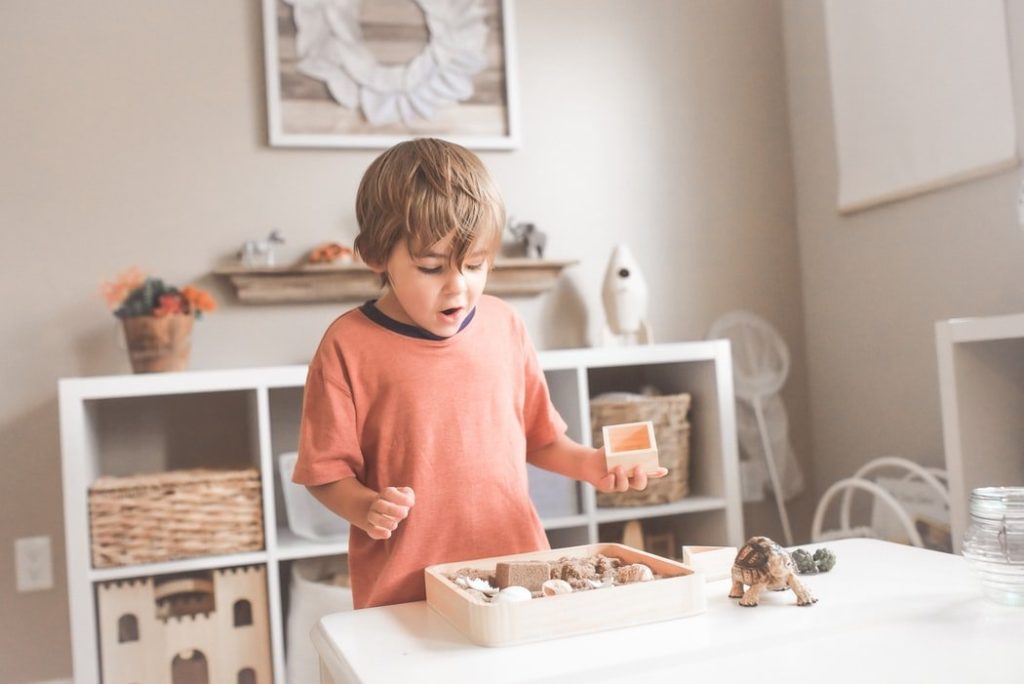 Similar to stacking crates, we highly recommend getting storage cubbies for toys. You can put toys straight into the cubbies. Or you can add more bins for a more clean, organised look! 
Use shoe storage
Get creative with shoe storage! Behind-the-door shoe storage can act as great storage ideas for extra toys. Stick stuffed animals or dolls into individual shoe spaces. 
Put toys on display
If you're using vertical space with floating shelves (or shelves of any kind, really!), consider putting toys out on display. Stuffed animals, dolls, race cars, and building blocks can act as great decor. 
Add toy bins to bookshelves
If you've got a bookshelf and don't have enough books to fill it, add bins to it. Use the bins to put extra toys out of the way. 
5 Book Storage for Kids Room
If you've got a bookworm on your hands, chances are you need a way to store all of the books laying around. We've got you covered with our top 5 favorite book storage ideas for your kid's room. 
Display them on floating shelves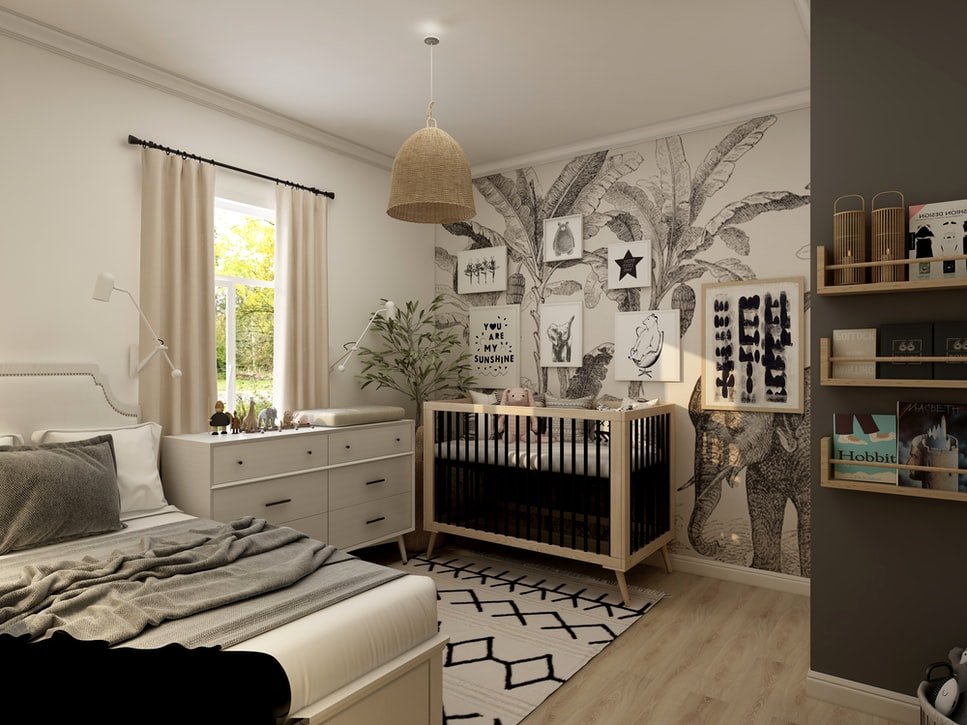 Use those floating shelves again! Showcase just how book smart your child is by displaying their books on hanging shelves. 
Use a cot railing as a bookshelf
Repurpose an old cot by turning it into a bookshelf. Use the railing of the cot and lean it against a wall. Then just lay your books on it! Your child will be able to easily grab them. And it's a great way to add more organisational decor to their room. 
Make a book nook
If you have a child who loves to sit and read, make them a book nook. Use a small corner and add a blanket storage basket and corner shelves with books. Your book-loving kid won't ever want to leave their room! 
Put the books on their level
You can either make a book bin by adding small table legs to a wooden crate. Or you can hang floating shelves on the wall and keep the shelves at your kid's level. Either way makes for great book storage for your kid's room! 
Use closet organisation for book storage
If you have extra closet space, think about adding books in there. You can add some cubby space to their closet and keep the books there. It'll keep the books out of sight when they're not in use. And they'll still be easy to grab when it's reading time. 
Having an unorganised kids room can make it feel small and cramped. And it can cause a lot of stress to you! But with these kids room ideas, you can easily make more space in your kid's room. And that makes play time so much more fun!
And if you need help with creating storage for your kid's room, we've got you covered! Get a quote from us here.