Moving house can be both exciting and stressful. On one hand, you're embarking on a new adventure in a new home, but on the other hand, you have to pack up everything you own and make sure it all arrives safely at your new abode. To help you stay organised and keep your sanity intact, we've put together the ultimate moving house checklist for Ireland. 
Whether you're a seasoned mover or it's your first time moving in with your partner, this complete checklist for moving house has everything you need to make your move as smooth as possible. We've even included a downloadable moving house checklist PDF for you to tick off as you go! So put on your favourite playlist, grab a pen, and let's get started on this moving adventure!

How Long Does It Take to Move House?
Sadly, moving isn't something you can do overnight. On average, it can take anywhere from seven days to several weeks to move an average sized home across town. This includes packing up your belongings, loading, unloading, and putting everything in its new place. 
Bear in mind that this will vary depending on the amount of belongings you have, the distance between your old and new home, and whether you decide to hire a moving company or rent a self storage unit to make the process more convenient.
A general rule of thumb is to give yourself at least six weeks to prepare and pack everything before moving homes. As there are a dozen things to organise and remember, having a detailed checklist for each week will guarantee an easier move. A checklist will also keep your stress levels down and your sanity intact!
Essentials for Moving Home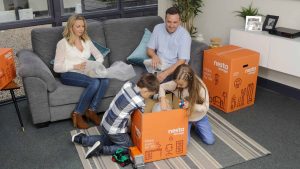 Stocking up on essential items before you move house is crucial for a smooth transition. With all the necessities, like toilet paper, cleaning supplies, and snacks at your fingertips, you won't have to rummage through boxes or run to the store in a frenzy. Plus, it's a great opportunity to declutter and get rid of items you no longer need. Here is a list of all the essentials you need when moving homes.  
Packing materials:

Quality moving supplies

like sturdy moving boxes, packing tape, bubble wrap, box cutters, and markers to label your belongings are a must!

Cleaning supplies: You will need cleaning products like a sweeping brush, mop, dustpan, and hoover. Cleaning supplies like disinfectant wipes, all-purpose cleaner, and paper towels will also come in handy.
Moving house checklist: Planning is key. Download our free printable checklist for moving to ensure you stay one step ahead.
Tools: A basic toolkit including screwdrivers, pliers, a hammer, a measuring tape, and a spirit level will be useful for any small repairs or installations.
Personal items: Don't forget to pack personal items like clothes, toiletries, and medications that might get lost in the sea of boxes.
Important documents: Keep important documents like passports, driver's licence, and birth certificates in a safe place during the move.
First-aid kit: Keep a first-aid kit handy for any emergencies that may arise during the move.
Water & snacks: Stock up on water and snacks to keep you motivated and energised throughout the long days. The last thing you want is to get hangry mid-move.
What to Do Before Moving House: The Complete To-Do Timeline
Most people may only think of packing and preparing after they have sold their house. However, it's good practice to start preparing at least six weeks before you move out. Here are some reminders on what you need to do on a weekly basis before the big move.
6 Weeks Before
So, you have just over one month to go until moving day – it's time to start planning. You don't have to start packing things in boxes just yet, but you need to make sure that you are diligently planning for the move ahead. Here's a checklist of everything you need to do 6 weeks before moving: 
Find a reliable moving company in your area and find out what is

the best day to move house

. 

If you require storage while in-between moves, research

self storage facilities near you

and find out

how self-storage works

.

Create a moving budget. 

Order

packaging supplies

like home move boxes, bubble wrap, tape, and packing paper.

Notify your bank, credit card companies, and other important institutions of your change of address. 

Begin transferring or closing utility accounts for your current home, and arranging for them to be connected at your new home (see steps below).

Start using up any frozen or perishable food items to reduce waste.
4 Weeks Before
You've arranged help for the day and stocked up on all your supplies. Next, you'll need to:
Confirm your moving date with your removal company and arrange accommodation if your move requires an overnight stay.

Declutter and start packing items you won't need in the next month or year. Be sure to label boxes with the contents and the room they will go in at your new home.
If you need

moving house storage

for your excess items,

secure a unit

and begin moving important items that need safekeeping. Be sure to research

how to organise your self storage unit

to maximise space and protect your items while in storage. 

Donate items you no longer need or consider placing them in a small storage unit if you can't get rid of them.

Create a folder or binder for paperwork and documents and place it somewhere secure.
3 Weeks Before 
Three weeks before your house move, you should have ticked off all the essential boxes like finding a reliable moving and self storage company, and packing away items you don't use regularly to remove some clutter. Next, you'll need to:
Notify your employer and any service providers such as cleaners or gardeners of your moving date.

Arrange for any necessary repairs or cleaning to be done at your current home.

Confirm arrangements with your removal company.

Start packing the essential items you'll need for the first few days in your new home. 
2 Weeks Before
Time is going quickly, and you want to make sure that everything goes off without a hitch on moving day. There's just a few minor things that you still need to take care of:
Stock up on any last-minute packaging supplies, like mattress covers, locks, as well as more moving boxes and tape if you've run out. 

Finish packing the majority of your belongings, working through each room one-by-one. Leave only essential items out.

Disassemble any furniture that needs to be taken apart, labelling the pieces for easy reassembly.

Confirm your travel arrangements and reservations. 

Pay any outstanding bills and ensure all financial matters are up-to-date.

Check that all appliances and electronics you don't use daily are unplugged and ready to be moved. 

Confirm arrangements for disconnecting and reconnecting utilities. 
1 Week Before 
With just seven days to go, it's crunch-time! Take this time to tie up any loose ends and make sure everything is prepared for your movers. 
Confirm your moving date and time with your removal company and storage provider

Pack a box of essentials for your first night in your new home

Dispose of any hazardous materials such as paint or cleaning chemicals

Empty and defrost your fridge and freezer, and clean them thoroughly

Finish packing and labelling all boxes, making sure fragile items are properly protected

Take photos of any valuable items that are being moved
1 Day Before 
Now that moving day is almost here, it's time to get the show on the road! Here's everything you need to prepare for and do on the big day.
Take a final walkthrough and ensure everything is ready to go

Pack a small bag of essentials for the day of the move

Take down any curtains, rods, or fixtures that you're taking with you

Double-check that all daily appliances are unplugged and ready to be moved

Confirm the arrival time of your removal company

Wipe down surfaces and vacuum and mop of the house

Say goodbye to your neighbours and make any necessary arrangements for handing over keys to your landlord or estate agent (if you're renting)
Moving House Utilities Checklist 
Whom To Inform When Moving House in Ireland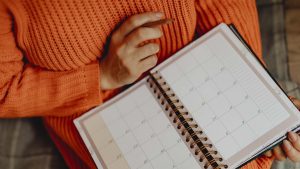 It's important to notify certain people and institutions of your move to ensure a smooth transition to your new address. Notifying key contacts such as the banks and utility companies ensures that important correspondence reach you at your new address without a hitch.The following companies, providers, and institutions in Ireland will need to know about your move: 
Utilities (electricity, water, gas and waste collection)

Banks and other financial institutions (credit card providers, loan companies, etc.)

Telephone, broadband and TV providers

An Post

Electoral Register

TV licensing

National Driver Licence Service (NDLS)

Revenue Commissioners (Irish Tax and Customs)

Electoral Register

Car, life, health & home insurance provider

Health professionals

Employer

School or university (if applicable)

Friends and family
How To Take Over Utilities When Moving House in Ireland
As you plan for your move, it is crucial to make sure that the necessary utilities are set up in your new residence. Along with essential utilities, such as electricity and water, it is equally important to ensure that services like internet, TV, and phone are available in your new home.
Transferring utilities when moving house can seem like a daunting task, but it's actually pretty straightforward with the right steps. If you're subscribed with providers like Sky, Eir, Virgin Media, or Electric Ireland, you can follow these simple steps.
Transferring Broadband with Sky
Step 1: Three weeks before your move, let Sky know that you want to cancel your services and arrange for them to be moved to your new address. 
Step 2: Clear any outstanding balance on your account.
Step 3: Arrange an engineer visit to have a new Sky dish installed at your new home if there isn't one yet. 
Transferring Broadband with Eir
Step 1: Complete this form by providing your account number, contact information, and your old and new address and the correct eircode for your new address. Wait for a confirmation message from Eir's Moving Home team. 
Step 2: Once the service is cancelled at your old address, return the TV equipment and fibre to Eir. These instructions will be sent to your new address. 
Step 3: Wait for the installation team at your new home. If you need to reschedule, you can call Eir's appointments team at (01) 5366550.
Transferring Broadband with Virgin Media 
Step 1: A month before you move, find out which Virgin Media services you can get at your new address. 
Step 2: Fill out Virgin Media's moving form. 
Step 3: Once you move into your new home, simply take all your equipment with you and set it up. 
Transferring Gas & Electricity with Electric Ireland 
Step 1: Visit Electric Ireland and click on the link "Transfer Account to Another Property".
Step 2: Log in to your online account and select the "Moving House" option. Provide the necessary information when prompted.  
Step 3: If the account isn't under your name, you simply need to close the account. 
After Moving into your First Home Checklist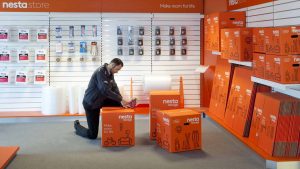 So, you finally made it to your new home! If it's your first home, there are several important things you'll need to do apart from unpacking and adding your personal charm to the place. Missing one of these steps could result in a sky-high utility bill, or none at all! We've created a first house checklist to help you settle in without any hiccups. 
Change the locks on all exterior doors

Update your address with the post office, banks, and other important contacts

Set up your utilities, such as electricity, gas, water, internet, and cable

Check all smoke detectors and carbon monoxide detectors and replace batteries if necessary

Locate and test the main water shut-off valve, circuit breaker box, and gas shut-off valve

Inspect your new home for any damage or repairs that need to be made

Deep clean your new home before unpacking and organising your belongings

Install any necessary window coverings or blinds for privacy

Familiarise yourself with your neighbourhood, including nearby schools, grocery stores, and other amenities

Get to know your neighbours and introduce yourself to them
Moving House Tips: Dos & Don'ts 
You can never read too many tips when moving houses. Here are some final reminders for your next big move. 
Do: 
1. Create a moving budget
Do the research upfront on the estimated costs of moving house, and then create a budget to stick to. It'll keep you from feeling overwhelmed as prices add up between packing materials and paying for a moving company. 
2. Pack room by room and label boxes 
Keep everything as organised as possible. By doing so, you'll limit the stress and anxiety of moving! 
3. Start with rooms you don't usually use 
It's easier to throw out items from these rooms instead of starting with rooms you often use. 
4. Hire specialists 
Use specialists or a specialised removal company for handling items like antiques or artwork.They'll know how to handle your items with care so they don't get damaged during your move. 
5. Be resourceful when packing
Pack smart, not hard! Whether packing up your entire bedroom or the office, be resourceful by using laundry baskets, suitcases, and handbags for easy transport. It'll cut down on costs of packing materials. Not to mention, plenty of items like suitcases and handbags add padding for your belongings. 
Don't: 
1. Overload moving boxes 
The items inside could be damaged during the move. And when you overload boxes, you run the risk of them being too heavy, which will keep you from being able to lift or move them. Not to mention, the bottom of the box may give and your items may end up broken on the floor. 
2. Leave gaps
To keep your stuff from bumping into each other (which results in chipped or cracked items) fill in the spaces between them with towels or papers. Packing paper or even old newspapers work well to add extra padding to your boxes. 
3. Transport non-allowable items such as paint 
Check with your moving company to see what they will and won't allow you to move on their trucks. 
4. Leave any moisture 
Prepare your furniture for storage or the moving truck by wiping them all down with a dry cloth beforehand. 
5. Use mothballs 
As long as your clothing stays tightly packed and taped up in a moving box, you shouldn't need to worry about any critters getting in and ruining your clothing. You can forego the mothballs and skip out on the bad smell of them in your new house. 
6. Leave batteries inside devices
Take all of your batteries out of any devices to keep them from running out of juice without use. 
Click here to download the PDF checklist
If you have friends who could lend a hand, then they can help you pack. If you have items you are unsure where to place due to the unforeseen change of your living arrangements, a storage unit can come in handy. A self-service facility like Nesta makes everything so convenient! Get a quote now so you can move in with ease!