Packing your things into cardboard boxes when you are moving, or for storage, is always challenging, as it's not merely an issue of choosing which items to keep. The process also involves ensuring that your precious belongings are packed tidily and safely while maximising the volume of space you have within the cardboard box to use. Done properly, you save time and money; done poorly, you stand to lose out.
To do the job efficiently you need two things: 
Proper organisation 

The correct number of cardboard boxes 
Read on to learn how to pack your cardboard boxes like a pro!
How To Choose the Right Cardboard Boxes for Moving?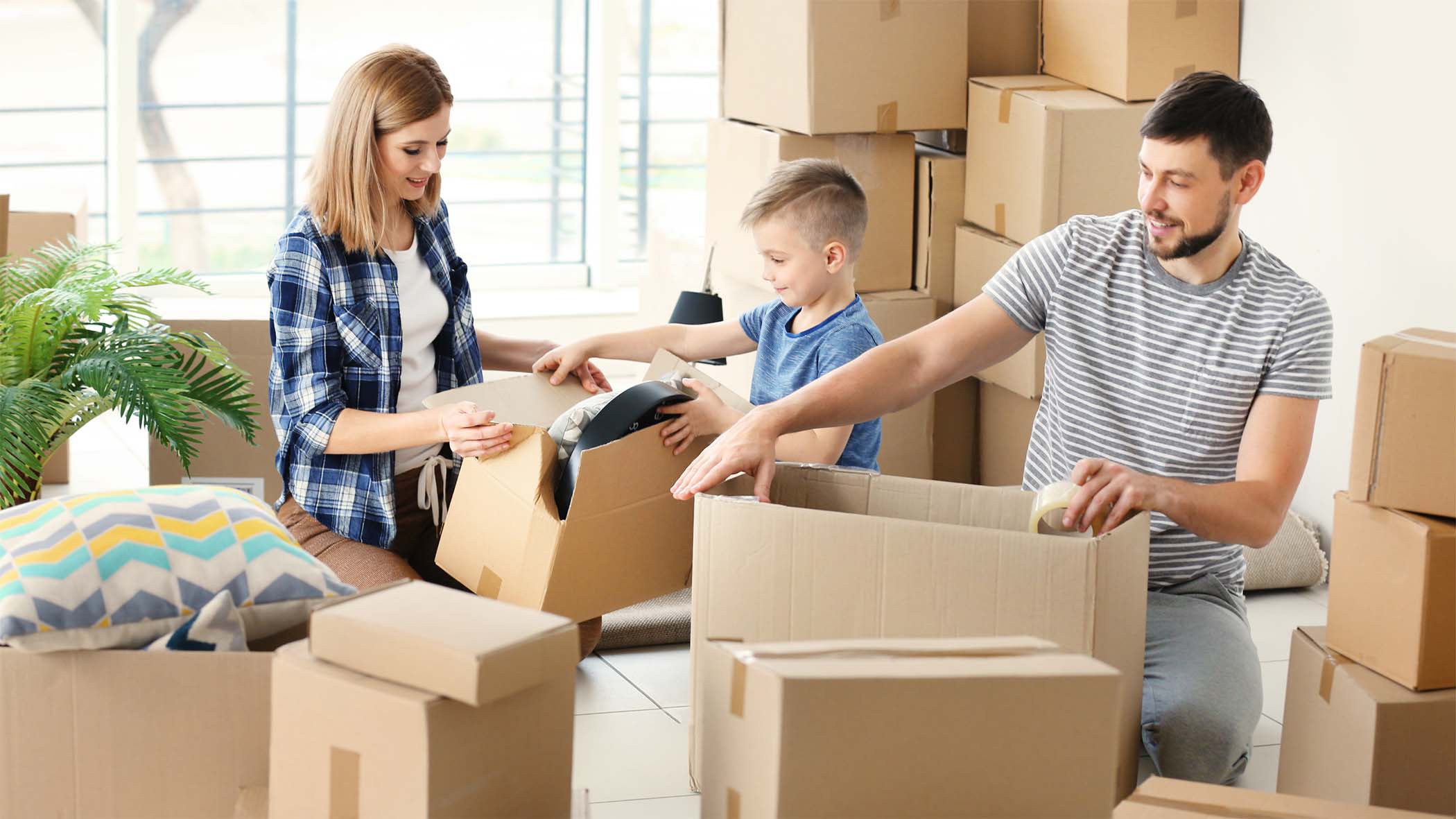 It's crucial to pick good cardboard boxes, but how do you know if you've found the correct ones? Here are the qualities that great cardboard boxes should have:
Sturdy and Strong 
Decent cardboard boxes contain multiple corrugated papers for sturdier walls and more robustness (often called double- or triple-wall cardboard boxes). So, even if you're moving extremely heavy items when relocating houses, you won't have to deal with unexpected breakages (which just ruins the endless fun of moving).
Multi-Purpose and Reusable 
Cardboard boxes are incredibly versatile, whether used for shipping fragile items, organising household belongings, or as document storage boxes. From small, compact boxes for retail products to large, sturdy ones for moving household goods, you should be able to customise cardboard boxes to fit your specific requirements.
Sleek and Foldable 
From small to large cardboard boxes alike, they should all be able to be compressed or folded up when they have completed their purpose. What's the point in trying to save space if the cardboard box itself ends up cluttering it even more.
Available in Different Sizes 
When you head out to purchase a moving box, you'll want to find a shop that offers them in small, medium and large sizes, as each size is suited to different types of packing, moving or storage.
Eco-Friendly and Recyclable 
In this day and age, biodegradability is a much-needed quality for any cardboard box in Dublin you plan to use. Even the packaging materials you use shouldn't leave too much mess around after you finish using them.
How Many Moving Boxes Do I Need?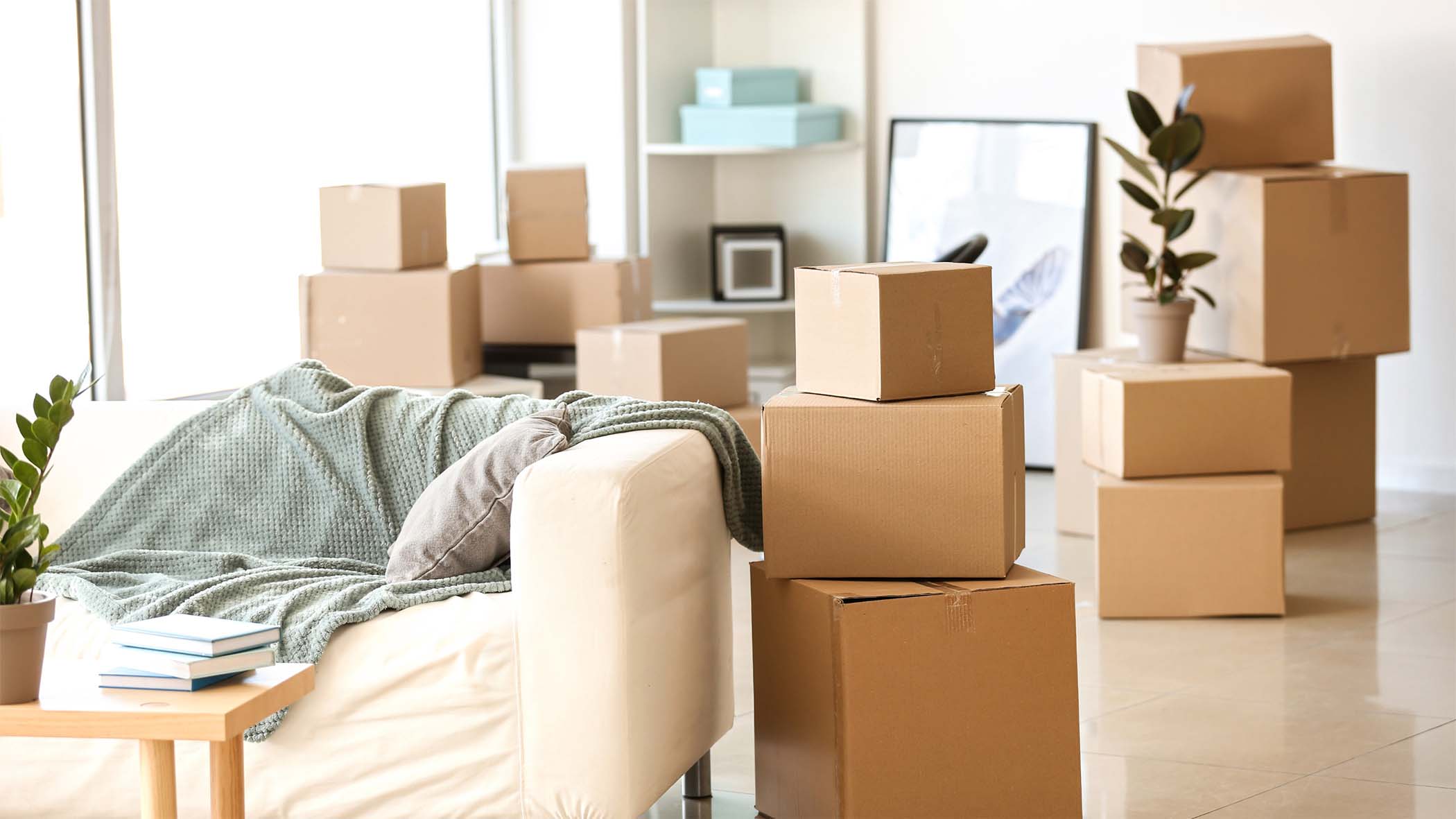 It's time to figure out just how many cardboard boxes you'll need and which size you should choose. 
Here's a nifty little guide on approximately how many storage boxes you'll need to properly pack your self storage unit or how many boxes for moving house you'll want to purchase before the fun of packing up your old gaff begins. 
Room 
Total Number of Cardboard Boxes You'll Need (by size)
Storage Unit Size

Studio room 

2 large 

OR

2 medium

OR

5 small boxes

9 SQ FT

One-bedroom apartment

84 small 

45 medium 

27 large boxes

25 SQ FT

Two-bedroom apartment

189 small 

 90 medium 

 54 large boxes

50 SQ FT

Two-bedroom house 

273 small

 135 medium

81 large

75 SQ FT

Three-bedroom house

378 small 

 180 medium

 108 large 

100 SQ FT

Four-bedroom house

546 small 

270 medium 

162 large

150 SQ FT

Four- to five-bedroom house

1092 small 

 540 medium 

324 large boxes

300 SQ FT
Average Price of Moving Boxes in Ireland
It can be a bloody pox to get decent cardboard boxes that come cheap but don't fall apart after filling them up only halfway. Here's a helpful guide for the price of moving boxes and which situations they're typically best for:
| | | | |
| --- | --- | --- | --- |
| Types of Moving Box | Dimensions | Average Cost | Best To Use For |
| Small | 432 x 318 x 305mm | €2.99 | Moving and packing more heavy items, such as CDs, books, small ornaments and crockery, as well as fragile items  |
| Medium | 457 x 457 x 457mm | €3.99 | Ideal for storage, moving and packing more durable items, such as pots and pans, linens, monitors, shoes, speakers, etc.  |
| Large | 457 x 457 x 650mm | €4.99 | For moving, packing or storing any bulky items, such as soft furnishings, winter clothes, bed sheets, toys, lamps, etc. |
Where To Buy Cheap Cardboard Boxes for Moving in Dublin, Ireland?
Now that you've got an idea of how much a moving box should cost and what types you'll need, you can start looking around at the best places to buy them in Ireland. Here is a list of some top cardboard box distribution businesses you should check out:
Home Improvement Stores 
Establishments like B&Q and Woodies will provide various moving boxes and packing supplies at their stores throughout Ireland, especially in Dublin. Check their website or visit your nearest location to ask around.
Self Storage Facilities 
Any self storage facility worth its salt will also have a packaging shop in place to help its customers pack away their items properly before they go into storage, either temporarily as the customer moves houses or for a while to prevent any clutter from building up at home.
Complete Guide to Packing Cardboard Boxes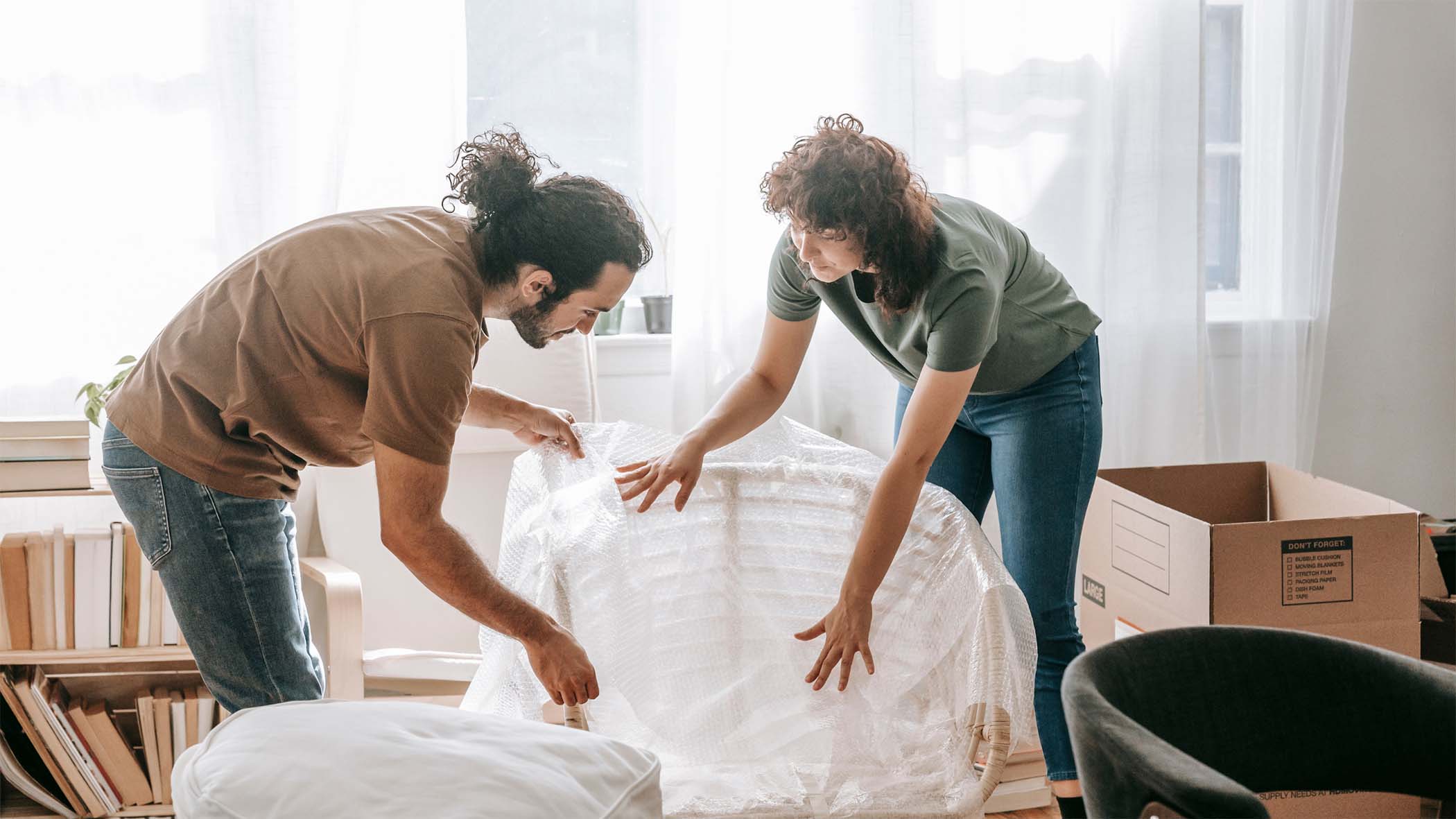 Step 1: Create a Packing List 
Did you know it's easier to pack if you group similar items? One of the most effective methods people use is packing room-by-room. But first, let's go step-by-step:
Make an inventory of what you have in each room 

Pack items according to similarities in size or material

Print out a labelled list of these items and paste them onto the outside of the box
Step 2: Wrap & Cover Items 
If you want to make sure the items in the boxes remain unbroken, you'll want to make sure you wrap them up properly before they go into the box:
Use quality packing materials, such as bubble wrap, packing paper, packing tape, and markers. 

Wrap fragile items individually, such as glassware or electronics. Place them in appropriately sized boxes and fill any gaps with packing materials to prevent shifting.

Use plastic wrap for extra protection for items with multiple components, and consider using plastic wrap to secure them together.

Pack your heavy items at the bottom to provide stability and prevent damage to more delicate items. Distribute the weight evenly to avoid boxes becoming too heavy or unbalanced, especially with large storage boxes used to move houses.

Fill any gaps in boxes with packing paper, bubble wrap, or clothing to prevent items from shifting during transportation. 
Step 3: Load & Fill Boxes
Cardboard boxes come in different sizes and offer distinct packaging capabilities depending on what needs to be stored or moved. Unfortunately, it's not a 'one size fits all' case, and before you can transport them to your new home or a self storage facility, you need to know each one's limits and strengths.
Small Boxes
We advise that you pack heavy items in small moving boxes merely because they are easier to pick up and move about.  
Examples of what to pack in small cardboard boxes:
Books, notebooks, and binders 

CDs, DVDs, tapes, videos, and other records

Office supplies 

Small kitchen items, such as cooking utensils and silverware

Small appliances

Small tools (but don't forget to wrap sharp edges or tools with bubble wrap)

Small framed pictures and photographs

Small lampshades

Bathroom items 

Footwear 

Craft supplies 

Decorations 
How To Pack Small Boxes
Small cardboard boxes mean less care, right? Wrong. These moving boxes also need consideration since they typically carry heavy or fragile items.
You should group loose items for easier organisation. 

Don't fill up your small cardboard boxes right to the brim.

Avoid putting too much weight inside the small boxes. Stay under 50 lbs. 

When stacking your cardboard boxes, place the small ones at the bottom since they contain heavy items. 
Medium Boxes
When packing medium-sized cardboard boxes, steer clear from breakable items, such as vases and casserole dishes. You can pack lampshades, but ensure they fit comfortably inside.
Examples of what to pack in medium cardboard boxes:
Pots and pans

Trays

Game consoles and board games

Toys

Folded clothing 

Linens and pillows

Blankets

Towels

Speakers and stereo components

Large lampshades
How To Pack Medium Boxes
With medium cardboard boxes, you can pack more durable items, but you still need to be cautious:
Start packing by adding a layer of crumpled paper to the bottom of the box. 

After a base layer of crumpled items, you can put soft items such as pillows or towels first. 

When packing small appliances or equipment, wrap them individually with packing paper or other moving supplies for additional protection. 

Lampshades should be packed in their own cardboard box, and you need to add a lot of fillers to ensure that they don't bounce around when it's moving time.
Large Boxes
Despite the name, it's advisable to pack light but large items inside large boxes. Why? If you pack too many things inside a large cardboard box for moving house, these items push around and damage each other.
Examples of what to pack in large cardboard boxes:
Bedsheets and other types of bedding

Towels

Tablecloths

Bulky winter clothing (winter coats, jackets, wool sweaters, etc.)

Pots, pans, trays and other large but not-too-heavy kitchen items

Stuffed animals which are light 

Board games, LEGO, and other children's toys

Any other household items that happen to be large in size and light in weight
How To Pack Large Boxes
Large cardboard boxes have a capacity of 4.5 cubic feet and 65 lbs, which means you need to keep certain things in mind:
Due to more extensive surface areas, there is more potential for damage to the box. Inspect your large cardboard boxes before using them — they must be solid and undamaged. 

Tape the bottom of each box to increase its strength and capacity. 

If you plan to put two or more heavy items inside a large box (not advised), place the heaviest items at the bottom. 
How To Fold a Moving Box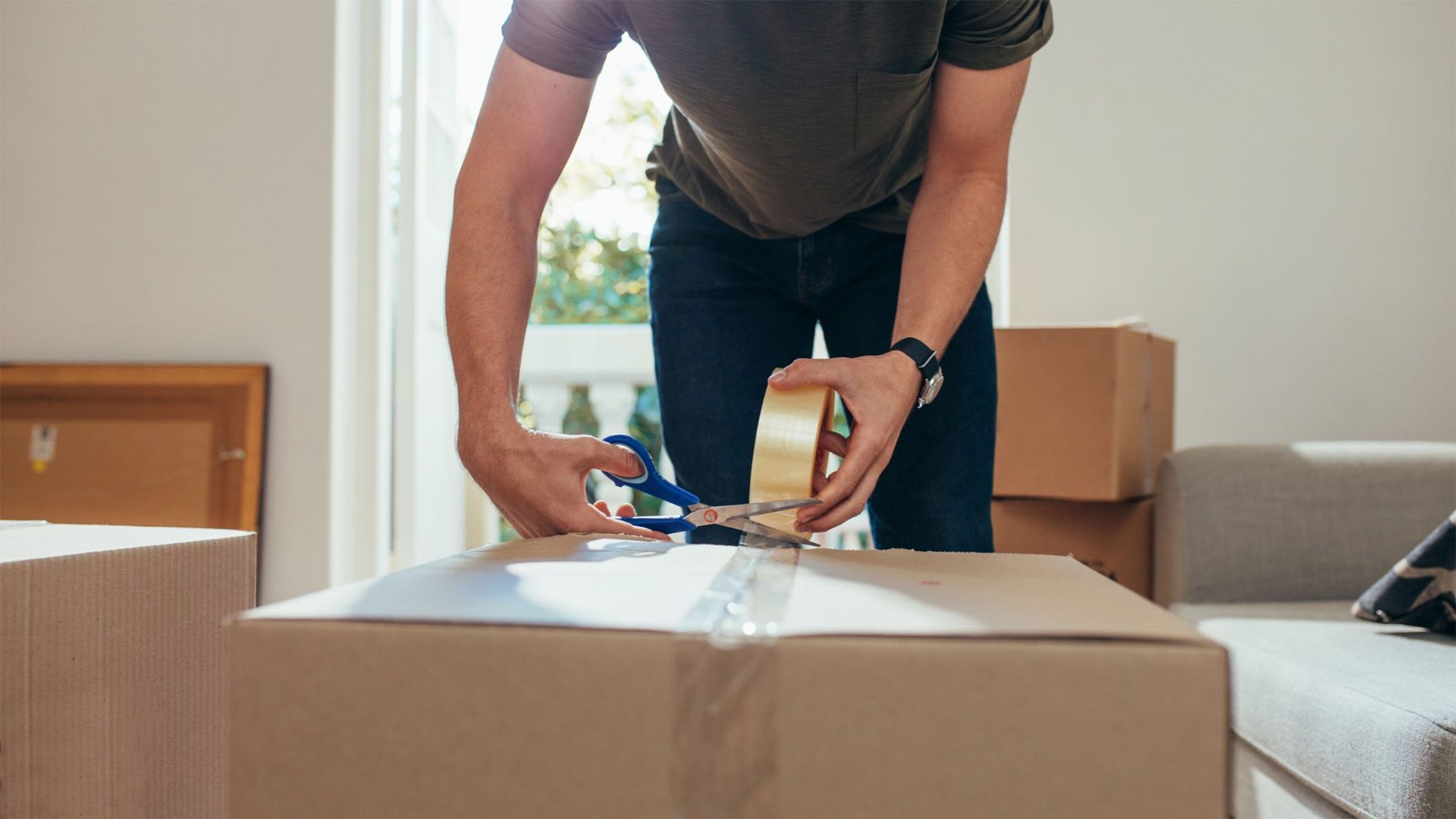 Folding a moving box properly after use helps save space and makes it easier for future use or recycling. 
How to fold a moving box:
Remove all items, and ensure it is empty before proceeding.

If any tape or adhesive is securing the cardboard box, carefully cut or remove it using a box cutter or scissors. Don't damage the box during this process.

Start by flattening the top flaps of the box. Fold them inward one by one until they lie flat against the box's interior.

Once the top flaps are folded, move to the side flaps. Take one side flap at a time and fold it inward towards the centre of the box. Repeat this process for the other side flap.

After folding the side flaps, fold the box lengthwise by bringing one end of the box towards the other. Make sure you securely tuck the flaps inside.

To keep the box folded, you can use packing tape or straps to hold it together. Wrap tape around the box or use straps to keep it compact and prevent it from unfolding.

You can store the folded box in a designated area for future use or prepare it for recycling.
If you're looking for a storage unit that cares, Nesta Storage provides you with premium cardboard boxes for storage and moving at a fair price. We will ensure your items are kept safe, secure, and organised for whenever you need easy access to them.