At Nesta, we know that because your garden shed is out of sight and out of mind, it's tempting to use it as a space for everything you're not quite sure what to do with but don't have the heart to bin.
A well-organised garden shed is more than just aesthetically pleasing. It makes life easier by ensuring your tools are always accessible and kept in good nick. You may even find it helps you save money at the garden centre because you can finally stop buying duplicates because the original is buried in your shed. Or at least, you can spend your pennies a bit more wisely.
Are you ready to organise your garden shed? Use these garden shed storage ideas to ensure your shed reflects the master gardener you are (or want to be).
1. Start with a Clear Out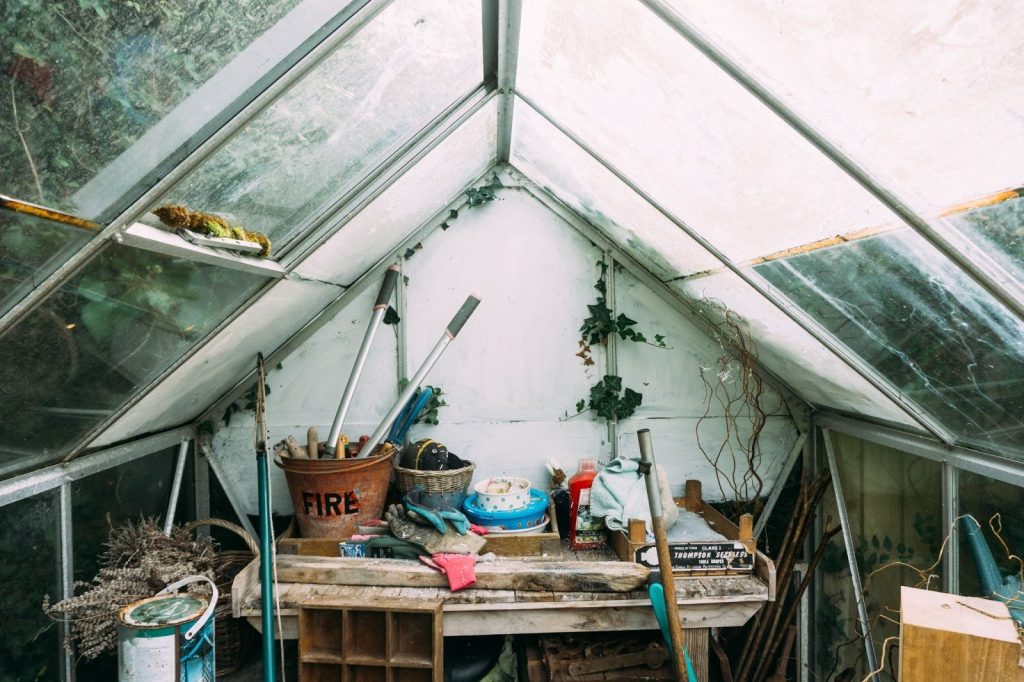 Your first step is to assess your space and your needs. A well-organised garden shed is often one that only contains the essentials. So, you need to be realistic about what you can store there.
The first step is to take a weekend afternoon and empty out the shed. Get it all out in the garden, so you know exactly what you're working with. 
Then, sort your items into three piles:
Items for the recycling centre, landfill, or charity
Do you have a shed full of broken tools, expired garden products, or items from the house you keep meaning to get rid of? Simplify the organisation process by removing them from the fray.
      2. Items for long-term storage 
Are you using your garden shed as storage after cleaning out a family member's home? For hobby storage? Pull storage-only items aside and consider a new long-term (and temperature-controlled!) solution for them.
       3. Items to keep and organise in your shed
Garden tools and equipment as well as year-round outdoor kits and accessories belong in your garden shed.
Tip: Do you have garden furniture, outdoor fireplaces, barbecues, and other very seasonal items? Store them in a self-storage space from October to April to keep your garden shed dedicated to garden tools. 
Self-storage is ideal for protecting your outdoor furniture from the elements, including those winter storms. You'll prevent rust build-up rust on your barbecues or metal furniture, which will extend the life of their use by years. A dedicated place for outdoor furniture cushion storage will also protect your soft items, as well, without taking up more room in your already overcrowded press.
Get a quote to see how simple self-storage can be.
2. Organise Your Garden Shed into Zones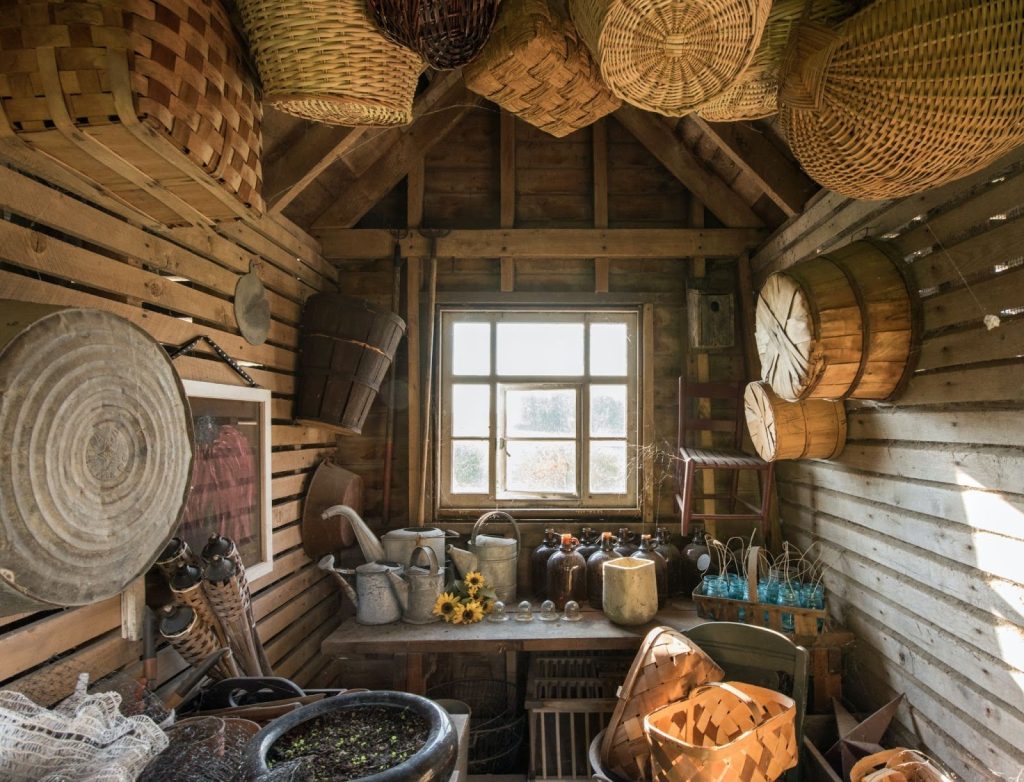 What garden tools and outdoor living items do you use daily? Weekly? Monthly? You want those daily items to be close at hand. 
One of the best shed garden tool storage ideas that you can use in any shed is creating three distinct zones with an easy-to-access path through the shed for movement 
The first zone is at the front of your shed near the door. It should include those daily items, like spades, shovels, knee pads, wheelbarrows, rakes, and brushes. Don't overcrowd the space; be judicious about what you truly need at hand. 
Tip: If you can, leave a bit of extra space here for those spontaneous trips to the garden centre, so you have space for new plants, compost, containers, and propagation bits.
The middle zone sits behind your daily-use zone and includes bigger pieces. Your middle zone might include items like:
Your lawn mower

Your strimmer

Hedgetrimmers

Seasonal car care items

Bicycles
These are things you use regularly but not each day, so you don't need to trip over them when fishing for your spade or a bucket.
The back zone should be used to keep things that survived the great garden shed purge but don't come out so often. These might include leftovers from fencing, paving, or decking or that compost you accidentally bought in bulk.
3. Use Shelves, Racks, and Hooks to Clear Up Clutter in Each Zone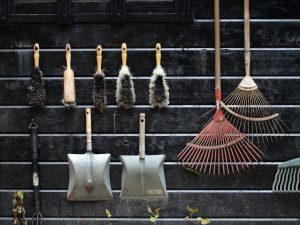 As tempting as it is to lean your things up against the wall, put them in buckets and wheelbarrows, and create elaborate garden-tool-Jenga games, avoid it where you can. Instead, keep your shed tidy and protect your tools by installing shelves, racks, and hooks.
Shelving can come in many different forms within your shed, you might considering a combination of:
Adjustable shelves: Reset the shelves for new items with shelves that can be made larger or smaller based on your year-on-year needs.

Free-standing shelving units: Use these units to store tubs, bins, etc. to avoid stacking and chaos. Make sure your shelving units have grates on the shelves to avoid the buildup of dirt.
Don't have the budget for new shelves? You can go the DIY route and use repurposed bookshelves and wooden crates. Other helpful garden shed DIY ideas include:
Pegboard for small hand tools

Coat hooks for hoses

Towel rails for hanging gloves, spray bottles, etc.
Tool racks are another key investment in your garden shed. A place to hang your rakes, brushes, clippers, backhoes, and trowels will help you care for your tools, and avoid that cartoon moment where you step on the wrong end of the rake. You might hang the rack on the shed door or on the front wall.
Tip: Looking for garden shed bike storage? Use folding wall racks to keep your bikes secure and prevent them from falling over or getting knocked about when you pull out the lawnmower. No wall space? A universal bike stand offers much of the same protection on the ground.
Let These Garden Shed Storage Ideas Transform Your Space
Much like decluttering your garage, organising your garden shed is worth sacrificing a Saturday afternoon for. Not only will you create a less chaotic space, but you'll add years to the lifespan of your tools and outdoor furniture, better manage your budget, and get more time back to enjoy your garden.
Do you need extra space for your outdoor pursuits? Let Nesta help you stay clutter-free and protect your valuable possessions. Get a quote for a simple self-storage solution.