You finally have the keys to your new house in hand and are ready to embark on an exciting new chapter in your life. Whether you are upgrading or downsizing, moving home is no easy task. Many movers will tell you that their big move felt like it took forever and caused them a lot of stress, but it was worth it in the end!
Luckily, there are a few simple ways to plan for the move while making sure that all of your valuables stay safe and secure, keeping you (relatively) stress-free and making the most of your precious time. 
Our moving house tips will help ensure that you (and your belongings) make it to your new home without so much as a hitch.
1. Make a checklist
'Failing to plan is planning to fail' is an old saying that rings true in all sorts of situations. And when it comes to moving to a new house, there's no exception.
With that in mind, our first tip for moving home is to make a checklist that will allow you to make sure that you don't miss out on anything important, and give yourself enough time to do everything properly. After all, there's nothing worse than thinking you're on top of everything, only for something unexpected to pop up and throw a spanner in the works!
When putting together your moving house checklist, all you need to do is jot down the below tips in order and follow the instructions as you go – simple!
Psst: Need to move in a hurry? Here's how to pack up your house quickly!
2. Sort out your utilities & bills in advance
With all of the hustle and bustle that takes place when it comes to moving home, it can be all too easy to overlook the less exciting, nitty-gritty things that need to be done, like looking after your utilities and bills, as well as anything else that requires post to be send out to your home address.
You will need to let all of your utility suppliers know when you're planning to make your big move. Everything from electricity, oil and gas providers to your phone and internet suppliers will need to be informed of your move date. At this point, you'll need to settle up any outstanding bills, as the last thing you'll want to experience when you move into your lovely new home is to have a bunch of overdue bills coming back to haunt you!
Often when moving to a new area, you'll want to continue with your existing phone and/or internet provider. In order to make sure that the change of address process runs as smoothly as possible, you'll need to give your supplier as much notice as possible (a few weeks is ideal), as these things can often experience unexpected delays. You'll definitely want phone and internet access as soon as possible when you arrive in and start to set up your new home.
Who else should you tell when you're changing your home address?
The below is a checklist of who you should be looking to inform of your upcoming change of address:
Your bank

Your credit card company

Your insurance company

Your pension provider

An Post (especially re: your TV license)

Your landlord (if renting)

Any medical practitioners that you have dealings with (GP, doctor, dentist, physio, etc.)

Your place of work

Schools/colleges (if you have any children in attendance)

Any supermarkets or shops that you have a loyalty card with (you don't want to miss out on future coupons!)

Any online stores that you buy from (Amazon, eBay, Littlewoods Ireland, etc.)

Friends and relations (so you don't miss out on Christmas cards and wedding invites!)
While not everybody on the above checklist needs to be contacted at the same time, it is a good idea to have them all listed so you can contact them all in good time, starting with the most time-sensitive, and moving down your list accordingly. 
3. Create a folder for your important documents
With so much movement happening when moving home, it is quite easy for things to get lost in the chaos. Important documents could end up being misplaced, causing a big headache further down the line when you need them.
Moving house time is the ideal time to get your paperwork in order. Make sure that you have a designated folder for all of your important pieces of paper and keep it safe.
The following is a checklist of document and paperwork that should be added to your 'moving home folder':

Receipts

Medical prescriptions

Birth certificates

Drivers licenses

Passports

Contracts

Leasing documents

Housing documents

Pension documentation
While the above checklist is not completely exhaustive (no doubt, you will have other bits of documentation that you'll want to add too), it should help you ensure that you have your most important files and documents kept safe and secure before your big move, greatly reducing the risk of losing a valuable piece of documentation.
4. Have a big clear out before your move
We've all seen it happen. You started out with the intention of being as efficient with your living space as possible, but your home has somehow managed to accumulate all sorts of old trinkets, bits-and-pieces and non-specific junk that you've really been meaning to get rid of for quite some time.
As luck would have it, moving to a new home is the perfect time to inventory the assorted clutter that has built up in various closets and 'storage rooms' over the years. The less you need to pack up and bring to your new house, the quicker and easier the move will ultimately be.
Do you really need that old tennis racket or guitar that has been banished to the back of your closet since a time beyond your memory? Do you even want that funky lampshade that's been gathering dust in the corner anymore? What about your fax machine? Have you used it in the last two years? If the answer to any of these questions is 'no', then you are due a serious clear out.
If time is on your side and you have the patience needed to inventory it all, you could potentially make some money for yourself by selling off your unwanted trinkets. There's a big market for vintage clothes, electronics and furnishings, so you might be sitting on an unexpected goldmine!
If you don't have the time or energy to become a part-time retailer, a trip to the charity shop is in order. Just because you no longer need or like something, it doesn't mean nobody else will find a good use for it. Or, if your junk really is just that (junk), you can simply hire a skip and be done with it.
Recommended reading: Essential Tips For Downsizing Your House With A Family
5. Order the right amount of moving supplies
Now that you've successfully rid yourself of all that unneeded clutter, your reward is having a much smaller workload ahead of you when it comes to packing for the big move (more tips on that to follow!). As an added bonus, you'll also be saving money on the mountain of packaging supplies that you'll need to buy.
Packaging. Bubble Wrap. Tape. Utility Knife. Cardboard Boxes. All of these things are crucial to your home move. Make sure that you order them early and order enough to make sure that you can actually fit everything into them!
6. Use different-sized boxes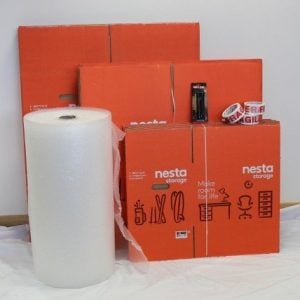 No doubt, you are going to need to move items of all shapes, sizes and weights when the big day comes. At this point, you will need to make sure that you have a lot of cardboard boxes in a range of sizes so that everything can be packaged and put away safely and securely. 
With everything from small (but potentially fragile) trinkets to bulky items like lamps and televisions needing to make the move to your new home, they will all need to be able to fit into boxes so that they can be transported in a way that minimises the risk of anything breaking. 
You are also going to need boxes to put the parts of your disassembled beds in to make sure that nothing gets damaged. Pro tip: do not put the various pieces from all of your beds in one box as this will cause confusion when you're unpacking and reassembling them, as it will be difficult to figure out which part goes with which bed. You need to put each disassembled bed in its own box and make sure that it is clearly marked, preferably using cardboard box markers. Speaking of beds, don't forget to invest in mattress covers to prevent your mattresses from getting dirty or soiled while in transit.
7. Use bubble wrap for fragile items
For anything that is precious, fragile or can break easily, you should wrap it all in bubble wrap. Lay the bubble wrap flat on a surface, and make sure the bubbles are facing toward the item (do not make the common mistake of wrapping an item with the bubble facing outwards – it may be fun to heat them pop, but the bubbles offer much better protection when facing inwards). Wrap the bubble wrap multiple times around your item. 
Each item should be wrapped separately and placed in a box that is clearly marked as 'fragile' with a permanent cardboard box marker. In order to absorb shock, it is a great idea to place bubble wrap, or some sort of spongy material at the bottom of the box before you place your wrapped items in. 
After everything is packed in tightly enough that it can't move about in the box while in transit, put an extra layer over the top for an extra layer of security. This may seem a little excessive, but it will keep all of your fragile belongings safe and secure while making the journey to your new home.
8. Pack your clothes in suitcases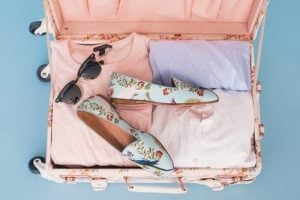 Suitcases are great not only for packing and transporting clothes but also for rolling up delicate items in clothes and other fabric to keep them from breaking.
Since the outer walls of suitcases are generally sturdier than most cardboard boxes, and you can roll them along the ground, they are a better fit for delicate items. Rolling up your clothes and towels, rather than folding them, is a great way of saving space and transporting them wrinkle-free.
9. Remember to label every box
You definitely don't want to lose anything valuable when you move house, so make sure that you mark each cardboard box that you have completed packing, writing down the contents of the box and what room in the house it belongs in using a permanent marker. 
You don't want to end wasting time looking around for much-needed items after your move, so it's best to get all of the labelling done as you go to save time in the long run.
10. Get multiple quotes on your removal costs
When it comes to purchasing just about anything, it's a good idea to shop around to get the best possible price, and your removal costs should be no exception. 
Since every home move is different, it's a good idea to contact several removal companies, detailing exactly what you have in terms of boxes that need moving as well as your own personal availability, and get a few quotes before making a decision to commit.
As removal companies can work out expensive, many movers prefer to source their local 'man with a van' to keep costs down. However, if you're stuck and have a bit of money to spend, making use of a removal company can take a lot of the hassle out of your move, allowing you to focus your energy elsewhere.
11. Make use of self-storage solutions
Of course, storage is going to be a must-have during moving time, especially if there is a period where you end up 'between homes'. While your friends or family might be able to put you up for a few nights in a spare room, they probably won't have enough space for all of your large cardboard boxes for storage.
In such situations, you'll need to look into secure storage options on a short-term basis. At Nesta, all of our storage unit locations come fully kitted out with CCTV, electronic gates and digital passwords in place, so you don't have to worry about your prized possessions being subject to unnecessary risk.
12. Make your 'first-day essentials' easy to find
Looking a little bit ahead to the big day when you move into your new house for the first time, you'll want to make sure that those bits and pieces that you need for your first night are easy to get at, so you can spend your first night in your new home in comfort. The rest of your packing can wait until tomorrow, but there are a few things that you'll want as soon as possible.
The below checklist contains items that most movers will be looking to use on their first day and night in their new home:
Kettle, mugs and tea.

Who doesn't want a nice cuppa after a long, hard day at work?)

Cleaning products and bin bags.

Chances are there'll be a fair bit of dust to clear up once you move in, so be prepared to do some light cleaning on your first day.

Phones and laptops (and chargers!).

When you finally get some downtime, you'll probably want to get in touch with people or stick something on to watch and chill out to, so make sure your devices have plenty of juice!

Kitchen and toilet roll.

Kitchen roll will come in handy if you spill anything, while toilet roll is fairly self-explanatory!

Duvets and bedding.

You don't want to spend your first night in your new home shivering in the cold, so make sure that your bedding is easy to access!
All of the above items should be stored in their own cardboard box that is clearly marked as 'FIRST DAY' or similar, so you can find them quickly and easily.
What to do when you move into your new home
While your first instinct might be to dive straight into the unpacking side of things, you'd probably be better off starting with a deep clean of your new home. With nothing in the way, there'll never be an easier time to get this cleaning done. Start as you wish to proceed; in a nice, clean home.
Before unpacking, it's a good idea to do a quick sense check/inventory of your utilities and plug sockets to make sure that everything is in full working order. This will prevent you from experiencing nasty surprises in the near future. If anything isn't working properly, you can make a checklist of what needs fixing and ensure that it all gets fixed in one go.
When you do get around to unpacking, once you've gotten through your 'first-day essentials' (see above), you should do it on a room-by-room basis, starting with the kitchen (as this should be the easiest), followed by bedrooms, bathrooms and (finally!) the living room.
Once all of the above is done and dusted, you should take the rest of the night off and enjoy yourself. Why not treat yourself to a nice takeaway to eat while watching one of your favourite movies?
Do you need help with your big move? Then why not get in touch with Nesta for a storage solutions quote?