If you're a makeup fanatic, you might struggle when it comes to keeping your stuff pristine. Makeup products just seem to get everywhere, don't they? Before you know it, you've got eyeliner on your mirror and blusher on the carpet. If you want to keep your makeup safe, you need to organize it. So, how can you do just that? Here are some nifty ideas that might just help you along the way. Enjoy!
1. Use a cool magnetic board
This storage idea may take a little effort, but it will be worth it. Sometimes, we forget what things we have. For example, if you have fifty shades of eyeshadow, you might forget which colours you have. If you get a magnetic board (you can get them from most stationery shops), it could solve this problem. Glue a small piece of metal to the back of each product. Then, you can make a display of all your favourite items. Easy.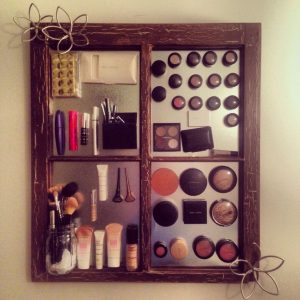 2. Invest in drawer dividers
If you tend to keep all your makeup in a drawer, you need to stop it mingling. Drawer dividers tend to be for stationary, but you can use them for everything. Slip one inside your drawer to separate your products.
3. Or, get a bead divider instead
If that fails, you could even get a bead divider. Again, you can get these things from sewing shops.
4. Create a beautiful pouch for your brushes
Speaking of sewing – if you're a dab-hand at the art, you could make a pouch for your brushes. That way, you can keep them all in one place. Sew a small pouch so that you have the perfect container.
5. Create mini hanging baskets
Are your products cluttering up your surfaces? Well, you're not alone. One thing you can do is start hanging your products up in little baskets. You can get small containers from any arts and crafts shop. Use a piece of string or wire to make the line. You can use pegs to keep your baskets in place.
6. Use some mini drawers
Mini drawers tend to be perfect for storing small items. You can often buy these drawers from sewing shops as they are ideal for thread and needles. That doesn't mean you can't use them for makeup.
7. Get a cork board
Do you have a memo board in your room? If you do, you can use it to pin up little pouches. That way, you can pop all your makeup in the separate bags on the board.
8. Or, a hanging organizer
You may have seen hanging organizers before now. Many homeware stores tend to sell them for your kitchen items. Well, why not use them for your selection of makeup? You can pop one on the back of your bedroom door so that it's always accessible.
9. Make use of spare magazine racks
Do you have a magazine rack, yet no magazines? Most people tend to read things online these days. So, what should you do with the rack? Well, if you have any square products (such as a block of eye shadows), you can pop them in the rack.
10. Use jars for extra storage
If you have loads of things like brushes and mascaras, you need somewhere they won't get messy. If you have any spare jars, they could be the perfect answer to your problem. Paint them in quirky colors and even add a little ribbon for a cute look.
11. Get some mini votive holders
Votive holders are ideal if you happen to have loads of makeup brushes. You should fill the bottom of one with some beads so that you can stand your brushes up in the container.
12. Use an old pencil case
If you have an old pencil case from your school days, you might want to put it to use. Many cases have dividers in them, and so you can put them to good use. Pop your products in the different sections. If you only have a few products, this idea is a lifesaver.
13. Use glass containers
Sometimes, you need to see the makeup you have. Well, you should always aim to get small glass containers for your things. That way, you don't have to go searching around in your containers for things – you can see where they are!
14. Keep everything in the same place
Finally, there is one essential thing that you need to remember. That is that you should always keep particular products in the same location. The last thing you need is to forget where everything it is.
We hope that our incredible ideas help you to get your makeup in check! Why not try them out for yourself? It could make a massive difference to your space at home!