Make Your Move Smooth and Easy With This Ultimate Moving House Checklist
Operation 'Moving House' is underway! It can be overwhelming to think of all of the things that you need to do. But don't worry, we've got it covered.
Here's a moving house checklist, with some moving tips for good measure, to help you make your moving process less arduous.
Moving House Process and Timeline 
Most people may only think of packing and preparing after they have sold their house. However, it's a good practice to start preparing two months before you move out. Here are some reminders on what you need to do on a monthly or weekly basis before the big move.
What to do two months before moving house
So, you have two months to go until moving day. It's time to start planning. You don't have to start packing things in boxes just yet, but you need to make sure that you are diligently planning ready for the move ahead.
Now's the time to go through your things and organise what you want to take with you. It's a great time to do a spring clean no matter what season it is. You should only take things with you that you need. So, be ruthless. Sell or donate what you don't need and store what you can't part with.
Research moving companies
Moving companies get booked up quickly. Especially on weekends. So, now is the time to make sure that you are researching local moving companies to make your transition to your new home less painful. And you can read our blog post here on the best day to move house! 
Make sure that you meet with your preferred company and go through the costs with them. And remember, check references and make sure they're insured. You don't want your belongings damaged in transit and having no recourse to do anything about it.
Create a folder or binder for paperwork 
Now's the time to get your paperwork in order. Receipts, quotes and all your other housing documents need to be safe and secure. Make sure that you have a designated folder for all of these. You can also add in lists of the items you're planning to pack to stay on top of everything.
What to do six weeks before moving house
You've purged, thrown and booked your removal company. Next, you'll need to:
Packaging. Bubble wrap. Tape. Small, medium and large cardboard boxes. All of these things are crucial to your home move. Make sure that you order them early.
Research storage solution providers
If there are things that you don't want to tag along to your new house just yet, start researching moving house storage solutions! This will give you time to figure out how self-storage works with your chosen provider and how to organise your self-storage unit ahead of your move. Many companies have flexible solutions to suit you. It's an affordable route to take when you are in the midst of moving houses. Self-storage units can provide a haven for your lesser-used belongings with a secure storage facility. 
Set up your moving budget
If you're not conscientious about it, moving can quickly become a big expense. By setting up a budget with estimates you received from moving companies, you can stay within your means. 
What to do a month before moving house
With one month to go, it's time to ramp up your house move. But, with so much planned already the rest will be a breeze. There are some important things that you need to do at this time:
Confirm moving company and other suppliers 
Written confirmation, costs and times need to be finalised with only one month to go until the move. Be sure to get these details during this period, so that you can start planning your move around these times. What's more, you can start organising your finances too.
The best way to do this is in a methodical fashion. Choose the room that you use the least and start packing in an organised manner. Clothes, rarely-used furniture and photos all need to be packed away and correctly labelled. After all, you don't want to be playing a game of Guess Who with your boxes when you arrive at your new home! Essential and commonly used items in your home can be packed last minute.
Start moving things into your self-storage
While you are packing, you might come across many things and pieces of furniture that you won't be needing anytime soon. It's best to get these items out of the way by gradually moving them to your self-storage unit. This will ensure that you're left with only essentials and must-haves for your moving day.
What to do two weeks before moving house
Time is going quickly, and you want to make sure that everything is going without a hitch. There's one minor thing that you still need to take care of:
Reconfirm with your moving company. 
With only two weeks to go, you need to make sure that your moving company is ready for action. Reconfirm the details and get the ball rolling.
What to do one week before moving house
Take your inventory and your documents and plan for the best moving day ever. It'll be a breeze knowing that you have so thoroughly planned your move!
Packing your clothes means that you are getting closer to the move. Invest in good suitcases or use your existing luggage set to start packing your clothes and toiletries. Do make sure that you leave some outfits out for the remainder of the week!
Settling invoices can be a painstaking task. So, make sure that you do this before the moving day itself. You don't want to be paying cheques and unpacking boxes at the same time.
What to do on the day of your move
Now that moving day is here, it's time to get the show on the road! Here's everything you need to prepare for and do on the big day. 
Moving day is going to be busy and active. With all of the lifting and hauling boxes, you'll need to get plenty of rest the night before. 
Make sure everything is set up safely
Plenty of people will be moving in and out of your house on the day of. Make sure everything is put away neatly so no one trips and somehow injures themselves. Keep your children and any pets away from the moving activity.
Give them any and all necessary information for moving day, such as which boxes are safe to load onto the truck and which boxes you'll be taking yourself. You may also want to provide snacks and drinks for movers, especially if they're doing 3-4 hours or more of work. 
Give the truck driver your new address
Once everything's loaded onto the truck, it's time to move to the new house! Give your truck driver the accurate address to your new location.
Clean the old home and get ready for the new one! 
Double-check you got everything out of your hold home, clean it up from any last-minute moving rubbish, and lock up. Then it's on to your new home! 
What to do with your bills and utilities when moving house
Here's a rundown of the different procedures of utility providers so you can smoothly transition your account to your new address.
Moving services with Sky
Step 1: Three weeks before your move, let Sky know that you want to cancel your services and arrange for them to be moved to your new address. 
Step 2: Clear any outstanding balance on your account.
Step 3: Arrange an engineer visit to have a new Sky dish installed at your new home if there isn't any yet. 
Moving services with Eir
Step 1: Complete this form by providing your account number, contact information, and your old and new address and the correct eircode for your new address. Wait for a confirmation message from Eir's Moving Home team. 
Step 2: Once the service is cancelled at your old address, return the TV equipment and fibre to Eir. These instructions will be sent to your new address. 
Step 3: Wait for the installation team at your new home. If you need to reschedule, you can call Eir's appointments team at (01) 5366550.
Moving services with Virgin Media 
Step 1: A month before you move, find out which Virgin Media services you can get at your new address. 
Step 2: Fill out Virgin Media's moving form. 
Step 3: Once you move into your new home, simply take all your equipment with you and set it up. 
Moving services with Electric Ireland 
Step 1: Visit Electric Ireland and click on the link "Transfer Account to Another Property".
Step 2: Log in to your online account and select the "Moving House" option. Provide the necessary information when prompted.  
Step 3: If the account isn't under your name, you simply need to close the account. 
Moving House Checklist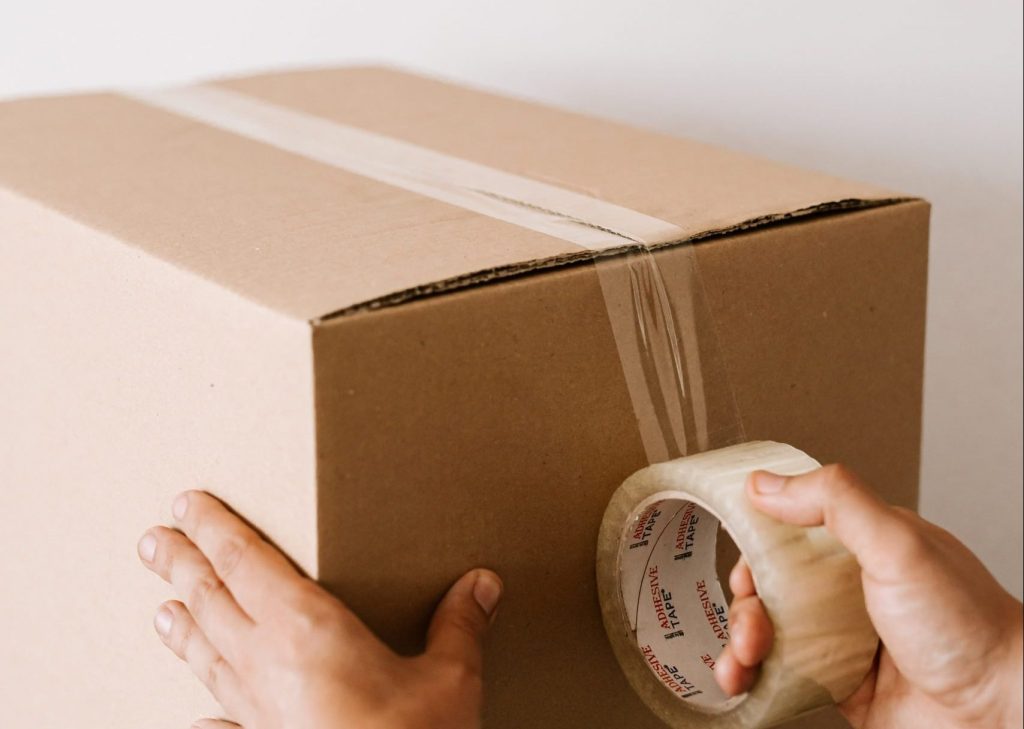 Unfortunately, some people don't have the luxury of time and need to move right away. Here's a checklist you can put on your fridge or vision board so you don't let anything fall through the cracks.
Buy packaging and moving supplies
Supplies like bubble wrap, wrapping paper, and moving boxes. Make sure all of your materials, especially your moving boxes, are high quality to reduce the potential for damage.
Segregate your items into several piles
We recommend sorting your belongings into these categories: Keep, Donate, Sell, Throw Away, Store.
Research moving companies and great storage solutions
Once you've nailed down the company you want to work with, call and book a moving company. You'll want to do this as soon as possible since many companies book up quickly. 
Let companies and providers know about your move 
They'll need to know if you have a change of address either to keep everything moving smoothly. The last thing you want to worry about is a delay or a break in service due to a company or provider thinking there is identity fraud on your account.
The following companies, providers, and institutions will need to know about your move: 
Bank & credit card company

Phone & broadband provider

Electricity

Gas

Satellite TV company, TV license 

Insurance companies (home, car, life, etc.)

Pension/investment companies

Car tax/vehicle licensing office

Mobile phone company

Membership card companies

Doctors, dentists, vets

School for the kids

Tax office

Online accounts such as Paypal and e-commerce websites 

Electoral register
Check the weather forecast for the day of your move
You'll want to make sure you're as prepared as possible for the move. If it's planning to rain, have a few extra umbrellas handy along with some towels or old rugs to minimise dirty footsteps throughout the house. 
If renting, settle any outstanding debts with your landlord or landlady
Move to your new home with a clean slate. Don't forget to pay your final month's bills at your earliest convenience
Buy cleaning supplies for the new house (and for the old). 
Especially if you're renting, most places require your house to be cleaned before turning over the keys. And you don't want to start off in your new home without it being spotless! 
Moving House Tips
You can never read too many tips when moving houses. Here are some final reminders for your next big move. 
The Do's of Moving:
Create a moving budget. 
Do the research upfront on the estimated costs of moving house, and then create a budget to stick to. It'll keep you from feeling overwhelmed as prices add up between packing materials and paying for a moving company. 
Pack room by room and label boxes accordingly 
Keep everything as organised as possible. By doing so, you'll limit the stress and anxiety of moving! 
Start with rooms you don't usually use 
It's easier to throw out items from those rooms instead of starting with rooms you often use. 
Use specialists or a special removal company for handling items like antiques or artwork
They'll know how to handle your items with care so they don't get damaged during your move. 
Be resourceful when packing 
Use laundry baskets, suitcases, and handbags for easy transport. It'll cut down on costs of packing materials. Not to mention, plenty of items like suitcases and handbags add padding for your belongings. 
Label boxes for easier identification when you recover your stuff 
You can label these by room or by ownership.
The Don'ts of Moving: 
Overload moving boxes 
The items inside could be damaged during the move. And when you overload boxes, you run the risk of them being too heavy. That'll keep you from being able to lift or move them. Not to mention, the bottom of the box may give and your items may end up broken on the floor. 
Leave empty spaces in your moving boxes without towels or papers 
To keep your stuff from bumping into each other (which results in chipped or cracked items) fill in the spaces between them with towels or papers. Packing paper or even old newspapers work great to add extra padding to your boxes. 
Transport non-allowable items such as paint or fireworks 
Check with your moving company to see what they will and won't allow you to move on their trucks. 
Leave any moisture on any of the pieces of furniture which can ruin it later on
 Prepare your furniture for storage or the moving truck by wiping them all down with a dry cloth beforehand. 
Use mothballs because it can smell really bad later on 
As long as your clothing stays tightly packed and taped up in a moving box, you shouldn't need to worry about any critters getting in and ruining your clothing. You can forego the mothballs and skip out on the bad smell of them in your new house. 
Leave batteries inside devices
Take all of your batteries out of any devices to keep them from running out of juice without use. 
Moving House FAQs

What's the best way to pack for moving house? 
Start packing early. This gives you more time to decide which items you'll bring to your new home, what you'll throw away or donate, and what items you want to put into storage. You have to be prepared with packing items such as moving boxes, bubble wrap, and more. 
How soon before moving should I start packing? 
The recommended time frame is two months before your moving date. This gives you ample time to book a moving company, settle your bills and utilities, and properly plan your packing. 
What's the first thing to do when moving into a new house? 
The first thing you should do is change the locks. After that, do a thorough assessment of your new place if it needs some repairing or an upgrade. Check all the taps are working properly, the smoke alarm is working, etc. 
How do you purge before moving? 
Purging or cleaning out your house before you move takes a lot of discipline. As previously mentioned, be ruthless. If an item doesn't serve any purpose for the next year or so, it would be better to sell them or donate them to charity. Others are also using the Konmari method by author and host Marie Kondo. According to Kondo, if you hold an item and it doesn't spark joy, then it's off to the bins. 
How do you move to a new house in one day?
Though this is not ideal, there are many circumstances that force people to be ready to move within a day's notice. It would be hard to book moving companies on the same day so it's likely that you would need to transport all your belongings by yourself. 
If you have friends who could lend a hand, then they can help you pack. If you have items you are unsure where to place due to the unforeseen change of your living arrangements, a storage unit can come in handy. A self-service facility like Nesta makes everything so convenient! Get a quote now so you can move in with ease!