H
ow to Turn a Spare Bedroom Into a Closet (7 Simple Steps)
There are many things you can do with a spare bedroom.
That said, turning yours into a closet isn't just every fashionista's dream, it's practical too! After all, we all experience clothing overspill as we get older and naturally accumulate more stuff.
But how are you meant to do this with little time (and perhaps little experience)? Not to worry — it's easier than you think! In fact, we've got you covered in just 7 steps.
Invest in Good Lighting
How to turn a spare bedroom into a closet 101: ensure you have top-notch lighting.
Ultimately, there's no point in having a chic space to dress if you aren't able to see what you're pulling out and trying on. Right?
Natural lighting is the best way to go because it can make a room airier and more open. However, you might want to consider inserting a lightweight blind or curtain to protect your clothes from any fading that can occur with sun exposure.
You're also going to need to rely on artificial lighting for evening or early morning dressing. Opt for a hanging light with a lampshade that will tie in with the overall aesthetic that you're trying to achieve. For instance, pendant lights say "simple yet modern" and chandeliers scream "sophisticated opulence."
2. Revive the Walls
It's amazing how a fresh lick of paint can instantly elevate a new closet space. 
Having said that, keep in mind that it's best to stick to one hue. Given that all your possessions will be out on display, any walls that are too patterned or colourful is going to look too much.
We recommend choosing white (or a bright neutral) so that the colours of your clothes pop against the walls.
Although, if you're a fan of bold interior design, you might want to press ahead with white for the three walls that sit behind your wardrobes. Then you could always use the fourth as a signature with a fun printed wallpaper or paint colour that will draw the eye.
3. Bring in the Storage Units
Let's face it, you've probably got a lot of clothes, shoes and accessories. Therefore, you need a wardrobe solution that will be able to hold everything (and still look Instagrammable!). 
Ask yourself:
Do I want units that attach to the wall or stand alone? Stand-alone units might be better for those who aren't exactly handy with a drill (we've all been there)

Do I want to mix and match drawer, shelving and clothing units? If so, how many would I need for each?

What's my budget? What can I afford right now?

Am I a DIY expert, i.e. do I want to make a wardrobe? Or shall I buy one?
Speaking of the latter, one of the most popular walk in closet ideas is IKEA's famous PAX system. This allows you to customise a wardrobe solution that works for you according to your personal tastes.
Tip: leave the doors off to create a celeb-worthy closet that would make even the likes of Kate Moss jealous.
4. Choose Your Mirror Carefully
You don't need us to tell you that a mirror is a must-have item in a walk-in closet. No matter how big or small it is, you need to be able to check out how smokin' you're looking in a particular outfit, shoe or accessory.
It has to be full-length so you can see the full effect, obviously. In fact, one of our favourite walk in wardrobe ideas is including a huge mirror to make your spare room look more like an upscale boutique.
You can also use a mirror to add pizzazz to your space. For example, a chunky gold frame would tie in with a classic luxurious theme. Alternatively, a plain rectangle would take things back to basics and allow other elements to stand out and do the talking.
5. Create a Spot to Sit
Once you've sorted out the lighting, walls, storage units and mirror, the next step of how to turn a spare bedroom into a closet is to create seating.
Sure, this can be challenging if your spare room is on the smaller size. In this case, perhaps a cute stool would suffice. 
That said, if you can include seating, we suggest that you do! After all, it's useful to be able to sit down and plan your outfit for the day or when that shoe just won't go on stood-up, no matter how hard you try.
Here are some fashionable yet functional options:
Comfy armchair

Chaise lounge

Stripped-back bench

Vanity chair

Loveseat

Built-in under the window

Footstool or pouffe
On the other hand, if you work from home, you could turn a spare room into a closet and office combo. In this case, a desk chair can do the job nicely.
6. Add Finishing Touches
Truth be told, you want to produce a pretty space that will bring you joy to spend time in (especially during such uncertain times).
To do this, consider adorning your walk-in closet with the following finishing touches to take it to the next level:
A rug — This can instantly incorporate colour and texture into a space (if it's fluffy, soft and a treat for bare feet, even better!)

Dressing table — If you have the space, utilise it with a dressing table, which can make putting on your jewellery and makeup a breeze

Plants — These can bring the outside world inside for a cool, urban feel (and they don't have to be real if you have an issue keeping things alive!)

Pictures and prints — These can add colour, texture and style to your spare room
Oh, and don't forget to buy some hangers that align with your aesthetic!
7. Input Your Items
Lastly, the easiest step of how to turn a spare bedroom into a closet is to insert your belongings. (Duh!)
Keep in mind that clutter is the common issue of a wardrobe. If you're struggling for space, we've got some top tips for you:
Roll or fold jeans and stack them on a shelf (because they're pretty bulky otherwise)

Hang your bags and hats on coat pegs along the wall

Take your shoes out of their boxes and toss the boxes, then store them in a shoe rack

Buy jewellery organisers to preserve your most-loved pieces and prevent tangling

Buy drawer organisers to divide your t-shirts and vests, bras and underwear
Still struggling? Consider having a clear-out and giving some stuff to charity or donating it to a friend or family member who may enjoy it, or put it into storage if you can't bear to see it go.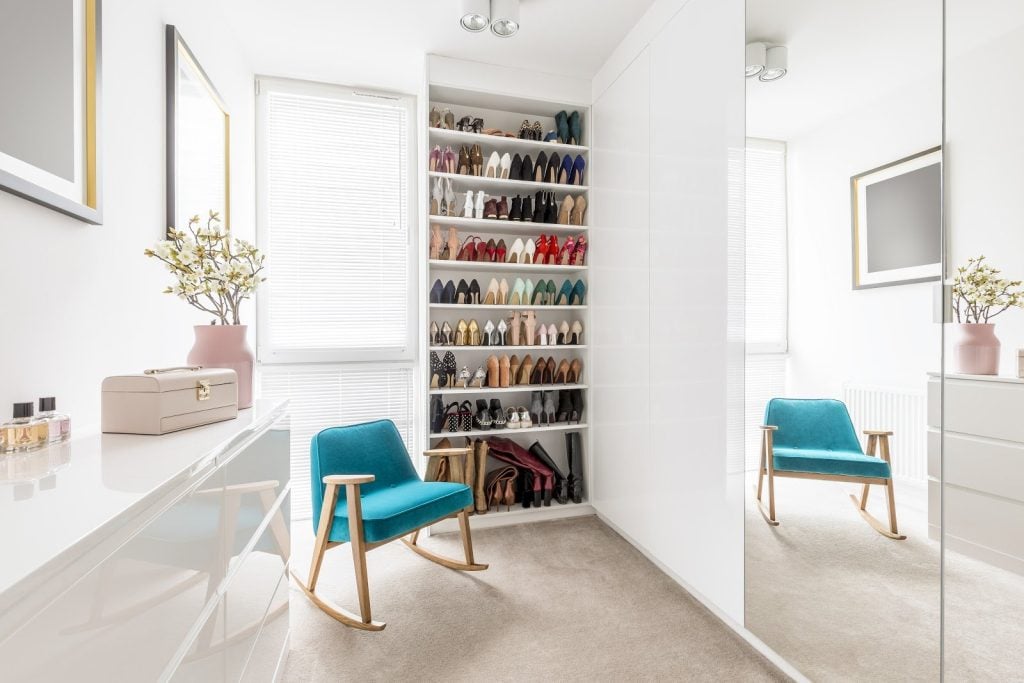 How to Turn Your Spare Bedroom Into a Closet You Love
Working out how to build a walk in closet step by step is difficult if you've never done it before.
Having said that, the trick is not to rush the process. It's better to spend time creating a space that you love and want to hide away in after a hectic day than do it quickly and it doesn't look (or feel) right. Remember, you deserve the best!
In the meantime, Nesta can help you store any overflowing items that are having a negative effect on your house (and your mind).